Charging a lead-acid battery correctly is a very important step to ensure a long service life. Lead acid batteries are used for a wide range of applications. For instance, they are widely used in providing backup power to your UPS, storing solar or other renewable energy for future use. In order to ensure your lead acid battery lives for years, it is critical that it is charged properly. If you charge lead-acid batteries the wrong way, they will face premature aging, Following the 3 tips below for charging your lead acid battery:
CHARGE SLA BATTERIES IN THE RIGHT TEMPERATURE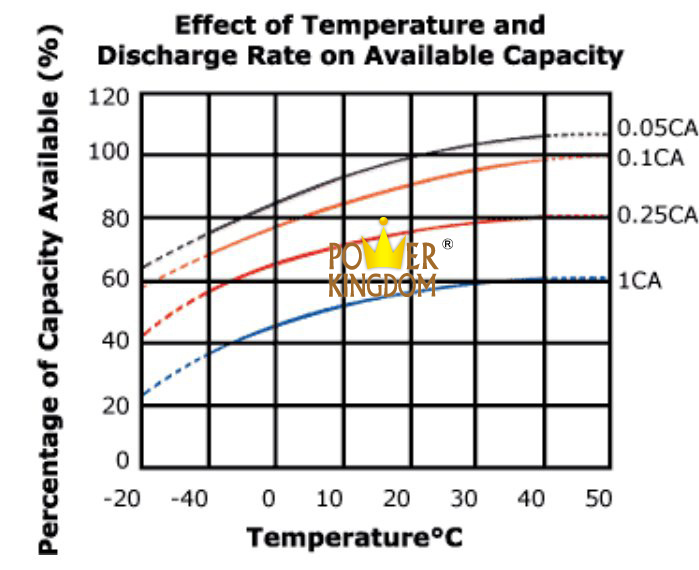 An important factor that has to be considered when charging an SLA(VRLA) battery is temperature. As the temperature rises, electrochemical activity in a battery increases, so the charging voltage should be reduced to prevent overcharge. Conversely as temperature falls, the change voltage should be increased to avoid undercharge.
DON'T OVERCHARGE A LEAD ACID BATTERY
Overcharging SLA batteries shortens their lifespan and can be dangerous. If the battery is left on the charger after being fully charged, the battery can create excess gas and will diminish the capacity of the battery. The sulfuric acid will break down and form Hydrogen and Oxygen gases. In a sealed lead acid battery, this can result in the buildup of pressure and temperature. There is a safety valve that will vent the gas, but often some of the electrolyte solution is ejected as well, which reduces the capacity of the battery. The lost capacity of an overcharged SLA can't be recaptured.
DON'T UNDERCHARGE A LEAD ACID BATTERY
Undercharging occurs when the battery is not allowed to return to a full charge after it has been used. Easy enough, right? But if you do this continuously, or even just store the battery with a partial charge, it can cause sulfating. Sulfation is the formation of lead sulfate on the battery plates, which diminishes the performance of the battery. Sulfation can also lead to early battery failure.