Correct charging is one of the most important factors to consider when using sealed lead acid (VRLA) batteries. Batteries performance and service life will be directly affected by the charging methods. There are four major methods of charging.
1、 Constant voltage charging
This is the recommended methods of charging for VRLA batteries. It is necessary to closely control the actual voltage to ensure that it is with the limits advised.
A. Standby service:2.23-2.30 vpc at 25°C/77°F
B. Cycle service: 2.40-2.50 vpc at 25°C/77°F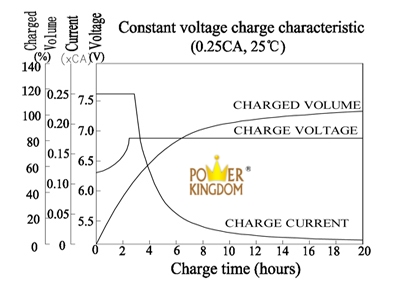 Figure 1
It is suggested that the initial current be set within 0.3C Amps.Figure 1 indicates the time taken to fully recharge the battery. It is also seen that the charging current is decreased to approx 0.5-4mA/Ah under charging voltage2.30 vpc, and 3-10mA/Ah under charging voltage 2.40 vpc when the battery is fully charged at 25°C/77°F.
Note :it is necessary to ensure that the voltage is correctly set. The charging voltage set too high will increase the corrosion of the positive plates causing loss of capacity and ultimately shortening the life of the battery.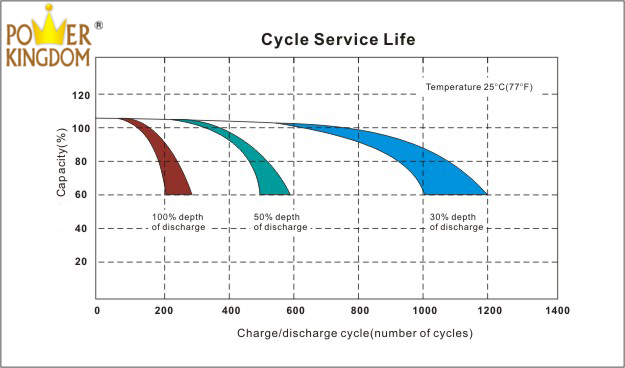 2、 Constant current charging
This method of charging is generally not recommended for VRLA batteries. It is necessary to understand that if the batteries are not removed from the charger as soon as possible after researching a state of fully charge. Considerable damage will occur to the batteries due to overcharging. The required recharged capacity is 1.07 to 1.15 times discharged capacity.
3、 Taper current charging
This method is not really recommended for charging SLA batteries as it can often shorten battery service life due to poor control of the final fully charged voltage. However, because of the simplicity of the circuit and subsequent low cost, taper current charging is often used to charge a number of series connected batteries that are subject to cyclic use. When using this method it is recommended that the charging time is either limited or that a charging cut-off circuit is incorporated to prevent overcharge.
4、Two stage constant voltage charging
This method is a recommended for charging SLA batteries in a short period of time and then maintaining them in a fully charged float (or standby) condition.